Voting Assistance - Osan Air Base
Voting Assistance - Osan Air Base
M
malourdesgulmatico
Updated
Installation Listings
Installation Listing Category
Geographical Address
Duty Station (or best approximation)
Public Address
442 Jeokbong-ri, Seotan-myeon, Pyeongtaek-si, Gyeonggi-do, South Korea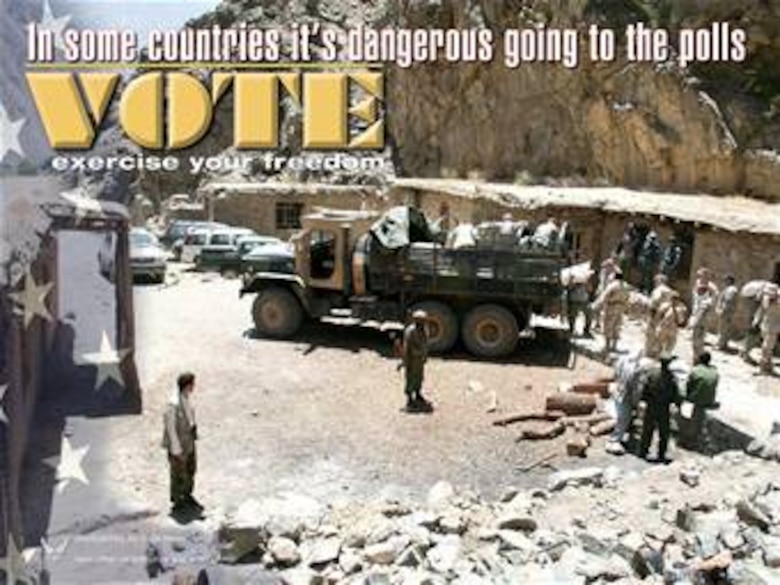 If you have voting questions, contact your unit representative or first sergeant.
Voting Links:
USAF Voting Assistance: http://www.afpc.af.mil/Air-Force-Voting/
Federal Voting Assistance Program: https://www.fvap.gov/
Osan Voting Assistance Office Email: [email protected]
About FVAP
The Federal Voting Assistance Program (FVAP) works to ensure Service members, their eligible family members, and overseas citizens are aware of their right to vote and have the tools and resources to successfully do so - from anywhere in the world.
The Director of FVAP administers the Uniformed and Overseas Citizens Absentee Voting Act (UOCAVA) on behalf of the Secretary of Defense. UOCAVA, as amended by the Military and Overseas Voter Empowerment (MOVE) Act, requires states to transmit requested absentee ballots to UOCAVA voters no later than 45 days before a federal election. Those citizens protected by UOCAVA include:
Members of the Uniformed Services (Army, Navy, Marine Corps, Air Force, Coast Guard, United States Public Health Service Commissioned Corps, and National Oceanic and Atmospheric Administration Commissioned Corps)
Members of the Merchant Marines
Eligible family members of the above
U.S. citizens residing outside the U.S.
FVAP assists voters through partnerships with the Military Services, Department of State, Department of Justice, election officials from 50 states, U.S. territories, and the District of Columbia.
To see FVAP's overall mission, vision, and goals for the next several years you can check out the Strategic Plan.
Service Voting Assistance
As a Service member or eligible family member, you can vote absentee while living away from your voting residence — and your Service can help.
Talk to Someone Local
For in-person assistance, find your nearest Installation Voter Assistance (IVA) Office to speak with a Voting Assistance Officer (VAO).
Your VAO can provide you with hard copies of forms, assistance in completing the forms, and answers to any of your absentee voting questions.
Vote After a Move
Since voting materials cannot be forwarded to you at another location, it is important to let your election office know your address after every move and every year. The information you provide is the only way to contact you.
During your period of transition after a Permanent Change of Station (PCS) or deployment, get direct assistance from your Installation Voter Assistance (IVA) Office to guarantee your ballots can still find you. Visit your IVA Office when in-processing at a new duty station, deploying overseas, and returning from deployment.
If you're separating from active duty, check out the steps to make sure you're ready to vote when transitioning back to civilian life.
User reviews
There are no user reviews for this listing.